Diagnostic & Therapeutic Tools
To thoroughly investigate your health mystery, a medical detective like Dr. Gosselin has access to a diverse selection of diagnostic resources in her toolkit. And to successfully deliver a resolution, Dr. Gosselin has a variety of therapeutic tools to stimulate your healing potential, reverse faulty metabolic pathways and restore normal function and structure.
Diagnostic Testing & Evaluations
Comprehensive Hands-On Physical Exam
Every good health practitioner needs to be part Medical Detective. The physical exam can provide a wealth of information and significant clues about nutritional status, past injuries and dysfunctional movement patterns that affect our overall health. Using these clues provides Dr. Gosselin the opportunity to unravel the mystery of your unique health concerns.
Body Composition Assessment using BioImpedance Analysis (BIA) 
Bioimpedance analysis (BIA) is a valuable tool for measuring your body composition—the measurement of body fat in relation to lean body mass. It is an important part of any comprehensive health and nutrition assessment.
BIA enables early detection of an improper balance in your body composition, which allows for earlier intervention and prevention. BIA also provides the measurement of fluid and body mass that can be a critical assessment tool for your current state of health.
BIA serves to measure your progress as you work to improve your health. Improving your BIA measurement, or maintaining a healthy BIA measurement, can help keep your body functioning properly for healthy ageing and reduced risk of illness. With your BIA results, Dr. Gosselin can recommend a personalized dietary plan, nutritional supplements, and exercise to help support optimal health and well-being for a lifetime.
Postural Evaluation
There's no such thing as good or bad posture. We need to think about posture as either being strong or weak. The goal, of course, is strong posture – posture that can reduce physical complaints, improve outlook and even help us to age well.
A thorough postural evaluation is the starting place to identify dysfunctional holding patterns that put us at risk for injury and contribute to chronic pain. With the aid of the postural evaluation, Dr. Gosselin can identify the muscular imbalances in the body and develop a postural education program to successfully help her clients transition from a weak posture to a strong one.
Interpretation of Basic Bloodwork Analysis (through Different Lens)
When you analyze information, like basic bloodwork, differently, you get different answers. Dr. Gosselin investigates her clients' bloodwork looking for patterns that give clues about how well the organ systems are functioning and key nutritional markers. This allows for a more pro-active, not reactive, approach to one's health care. With this early detection, many serious health issues can be averted through the use of your personalized health plan.
Advanced Lab Testing
Sometimes, a complex or chronic health problem requires more intensive investigation. Sometimes new tests are available because of technological advances but haven't been integrated in routine health care yet. That's when access to a variety of specialized Functional Diagnostic Testing can be invaluable. Dr. Gosselin utilizes several different licensed lab companies that offer an array of tests that can help identify the core imbalances that are at the root of her clients' health concerns. These tests can provide essential information on gut function, hormonal balance, heavy metal and environmental toxicity, food allergies & sensitivities; brain health assessment and personalized nutritional evaluations.
Therapeutic Recommendations
NOURISHMENT, MOVEMENT & RESILIENCE
This is where it really begins – how you fuel yourself, how you move through your day and how you maintain your steady state of calm and purpose in a constantly evolving set of circumstances. It's not about finding the perfect food, exercise or stress management plan. It's only perfect if it works for you and that's where many clients find help with Dr. Gosselin.
Did you know that it's estimated that over 75% of what ails us can be corrected and even prevented through the persistent and consistent adoption of healthy lifestyle habits? It shouldn't be a surprise that it's the quality and quantity of the food we eat, our physical activity, our rest and restoration cycles and our relationship to ourself and others that's really at the heart of our well-being.
Clients working with Dr. Gosselin explore the possibilities of their healthy lifestyle habits based on their interests, their likes and dislikes and their health goals – all in the context of their unique biochemical individuality.
Health Coaching
Recognizing that lifestyle changes take time and motivation, Dr. Gosselin has partnered with Health Coach, Lauren Altieri to support her clients.
A health coach supports and guides clients while they discover how to accomplish their goals through small meaningful steps.
Health coaches provide encouragement, support and accountability throughout the process of making changes as you create the healthy life you desire.
HIGH TOUCH, HIGH TECH CHIROPRACTIC
Today's clinical research and scientific evidence strongly supports the use of Chiropractic Manipulative Therapy as a non-invasive, drug-free option for the treatment of low back and neck pain. For many people, relief of pain and dysfunction is their initial reason for seeking Chiropractic care.
What many clients quickly realize however is that the Chiropractic treatment delivers much more. And the reason for that is the fact that the major organ system that's effected by the Chiropractic manipulation is the whole nervous system - brain, spine and millions of peripheral nerves – all coordinated to control your body's cellular function. Supporting your nervous system can have profound effects on mood, attitude, posture and organ function, in addition to pain relief.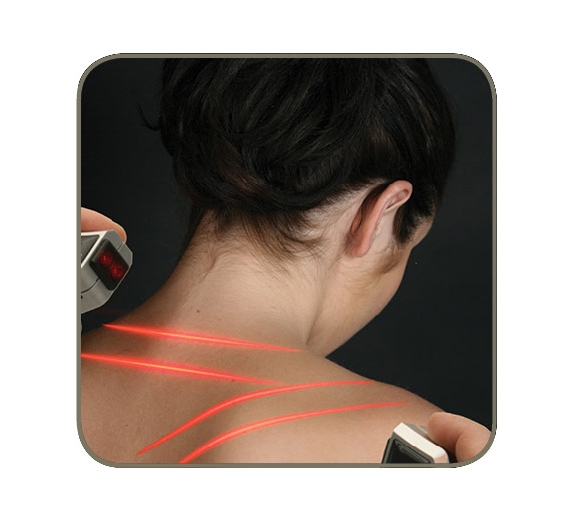 Low Level Laser Therapy
Besides her hands, head and heart, Low Level Laser Therapy (LLLt or 3LT) is one of Dr. Gosselin's most valuable tools used in practice. It boosts the success of any chiropractic treatment by decreasing inflammation, increasing oxygen and blood flow, promoting muscle calcium uptake and increasing neurotransmitter release. Low level laser therapy is a form of photobiomodulation that stimulates the photoreceptors of your body's cells to convert light energy to chemical energy that your cells can use to increase protein production, support cell growth and wound healing, promote circulation, tissue regeneration and stimulate a healthy immune response.
Professional Grade Nutritional Supplements
Dr. Gosselin's clients can be assured that when a nutraceutical product or supplement has been recommended, it has already been vetted by Dr. Gosselin for purity and quality with the use of good manufacturing practices. Many of the products that Dr. Gosselin recommends are available only through professional order. To make access to these valuable adjuncts to treatment, Dr. Gosselin has partnered with a great online dispensary – Fullscript.
Using Fullscript you will receive a personal invite from Dr. Gosselin. Once you activate your account and place your order, you'll get hassle-free and fast delivery right to your door. You'll also get periodic reminders and account updates to help you stay on track with your health plan. Thanks to Fullscript, Dr. Gosselin has been able to streamline this part of her practice with great benefit to her clients.
Customized Orthotics
Whether you're working with Dr. Gosselin for pain relief, preventive care or to improve your athletic performance, use of custom-made functional orthotics can help. Why custom? Generic, off-the-shelf inserts risk worsening your symptoms because they only address general conditions, not your specific needs. Your feet are as unique as your fingerprints.
Dr. Gosselin has been working with Foot Levelers for 25 years to provide her clients with excellent custom-made orthotics that are designed to correct and support all 3 arches of the foot not just one. By building a better foundation with the feet, you support your spinal biomechanics, improve posture, enhance performance and alleviate pain and dysfunction.
To learn more about why Dr. Gosselin recommends custom orthotics to her clients check here.
Yes, I'm Ready to take my health to the next level!